text.skipToContent
text.skipToNavigation

Swagelok® Pressure Transducers
Maintain accurate electronic pressure monitoring with Swagelok industrial pressure transducers in a variety of industrial applications.
Request More Information
Swagelok transducers are offered in a wide range of pressure ranges, process connections, electrical connectors, and output signals enabling configurations customized to meet a wide range of system requirements.
S Model (Standard Industrial) and E Model (Explosion Proof)
All models feature stainless steel construction and have a robust, compact design that resists pressure spikes, shocks, and vibration. Thin film and piezoresistive sensor technology help provide repeatability, reliability, and stability. An accuracy 0.5 % of span limit point calibration (0.25 % of span best fit straight line) results in accurate pressure monitoring.
A broad selection of pressure ranges with engineering units in psi, bar, MPa, kg/cm2, and kPa and pressure references of compound, gauge, or absolute, process connections of Swagelok tube adapter, NPT, RG, RJ, or ISO7 taper, and a flush diaphragm version for use with viscous fluids and slurries are available.
The Swagelok S model is engineered for use in a wide variety of general industrial applications such as machine control, process control, laboratory and testing equipment, and hydraulics and pneumatics.
The Swagelok E model is specifically designed to meet durability and performance demands of industrial applications where explosion-proof ratings are required, such as wellhead monitoring, refining, petrochemical, offshore oil and gas, and gas measurement. It is resistant to pressure spikes, vibration, and moisture intrusion to IP67/NEMA 4X and is compliant to CSA (Canada and U.S.A.) and FM: Class I, Division 1, Groups A, B, C, D; Class II/III, Division 1, Groups E, F,G and has a temperature class rating of T6 at maximum ambient 140°F (60°C) and T4 at maximum ambient 221°F (105°C).
Pressure Transducers Catalogs
Locate detailed product information, including materials of construction, pressure and temperature ratings, options, and accessories.
Industrial Pressure Transducers, Standard Industrial S Model, Explosion-Proof E Model, Intrinsically Safe T Model
Features: Accuracy 0.5 % of span limit point calibration (0.25 % of span best fit straight line); Broad selection of pressure ranges, engineering units in psi, bar, MPa, kg/cm2, and kPa. Pressure references: gauge (vacuum, positive, compound) and absolute; Available with a variety of electrical connections and output signals; Available with a variety of process connections including flush diaphragm and Swagelok® tube adapter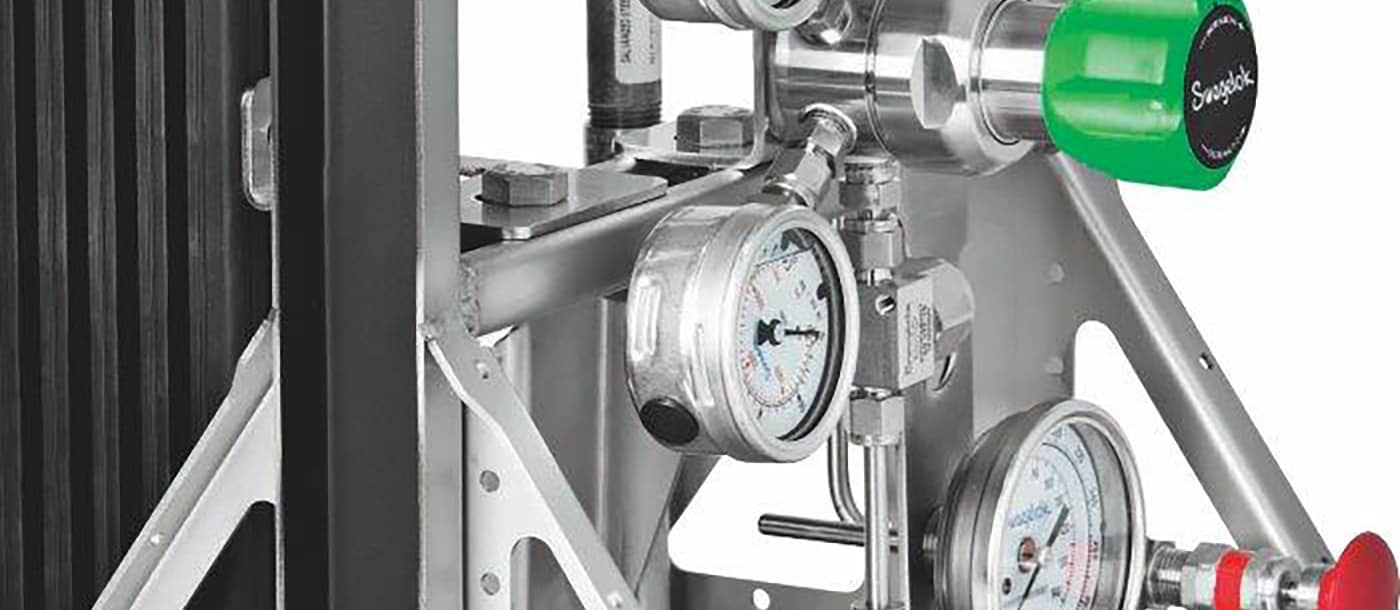 Small Footprint, Large Impact: How to Detect and Protect Against Gauge Failures
Learn to recognize the signs of a failing gauge and avoid risk to employees and costly downtime to make repairs.
Learn to Prevent Gauge Failure
Swagelok Resources Curated for You