text.skipToContent
text.skipToNavigation

Swagelok® Mechanical Seal Support Systems
Swagelok leverages deep fluid system expertise to design and construct simple-to-configure, easy-to-maintain, and safe-to-operate seal support systems. If you are tasked with keeping rotating equipment online and operating efficiently, Swagelok mechanical seal support kits and assemblies will help you minimize downtime, reduce costs, and save time.
Request More Information
Optimal System Designs According to API 682
Swagelok offers mechanical seal support system as kits and assemblies that are easy to install and are backed by The Swagelok Limited Lifetime Warranty. Our seal support systems are available in various American Petroleum Institute (API) plan configurations and are assembled according to industry best practices as detailed in the fourth edition of the API 682: Pumps—Shaft Sealing Systems for Centrifugal and Rotary Pumps standard
Swagelok mechanical seal support kits and assemblies feature standard designs that include the minimum arrangement of components as specified by API 682. We avoid pipe threads and limit the number of connections wherever possible when building seal support systems, minimizing potential for costly leaks.
Find out how well-designed seal support systems can help you minimize downtime, reduce the probability of leaks, and simplify maintenance.
Swagelok Seal Plan Kits and Assemblies
Seal Plan Kits
Seal plan kits are a collection of components used to connect the seal support plan to the pump. Each kit contains everything needed for proper installation, including an engineered drawing, making it simple to standardize how plans are connected to the pump during turnarounds or other projects. Kits also adhere to API best practices by showing technicians where to bend tubing to eliminate potential leak points through the reduction of elbow fittings and pipe threads.
Explore Swagelok atmospheric side plans and process side plans available as seal plan kits.
---
---
Seal Plan Assemblies
Seal plan assemblies are panels, seal pots, or skid systems that comprise the majority of the API seal support plans. The seal plan assembly ordering numbering structure allows users to select a variety of configurations and additional system components to meet specific site or application requirements. Options and configurations not listed in the ordering numbering structure are also available. Seal plan assemblies can be ordered alone or with the associated field installation kit to provide a standard installation for site personnel.
When procuring seal plan assemblies for pump installations or retrofits, please contact your authorized Swagelok sales and service center to ensure the proper amount of tubing and tube support materials are provided for a safe and effective installation.
Explore Swagelok between seal plans and process side plans available as seal plan assemblies.
---
---
Designed for Reliability and Maintenance
Swagelok design options include high-point vents in the seal support system, allowing systems to be vented and cleared of entrapped air to prevent flow or cooling disruption. Designs also may include low point drains to allow the system to be quickly and safely purged of buffer, barrier, or flush fluids when pumps are out of service. Many Swagelok seal support systems offer additional pressure and temperature measurement instrumentation options at points where having measurements would help troubleshoot an issue or provide other operational benefits.
Designed for Appropriate Flow
Whether the system delivers a flush fluid to the inboard seal or buffer and barrier fluids are circulated between seals in a dual seal arrangement, maintaining proper flow and circulation through the support system and seal chamber is a requirement for effective seal operation. Swagelok seal support systems are designed with components such as filters and strainers located in easily accessible areas to simplify maintenance and minimize issues caused by clogs or unwanted flow restrictions. Additional options such as bypass loops can be added to the system to ensure a continued supply of flush fluid when a filter or strainer element is being replaced or cleaned. Tubing runs are also carefully designed, with best practices followed such as sloping all runs, eliminating the use of elbow fittings, and using large-radius bends in the tubing to further assist flow.
Designed for System Safety
Swagelok seal support system design options allow for customization to suit applications where high vibration levels, inadvertent contact by maintenance personnel, or other factors might create challenging conditions. The designs also incorporate block-and-bleed valves on all instruments, including gauges as recommended by API to provide an additional level of safety for items that need to be calibrated or removed for servicing. Wherever practical, Swagelok seal support systems offer options such as two-valve manifolds or other appropriate isolation on instruments.
View our Application Guide
Locate detailed information about our assemblies.
Mechanical Seal Support Systems Application Guide, API 682
Seal Support Systems are each designed for a specific mechanical seal and set of process conditions. These systems supply either a gas or a liquid to the mechanical seal to regulate the environment in which the seal operates, protecting rotating equipment from damage. Swagelok seal support systems rely on the guidance provided by API 682: Pumps - Shaft Sealing Systems for Centrifugal and Rotary Pumps.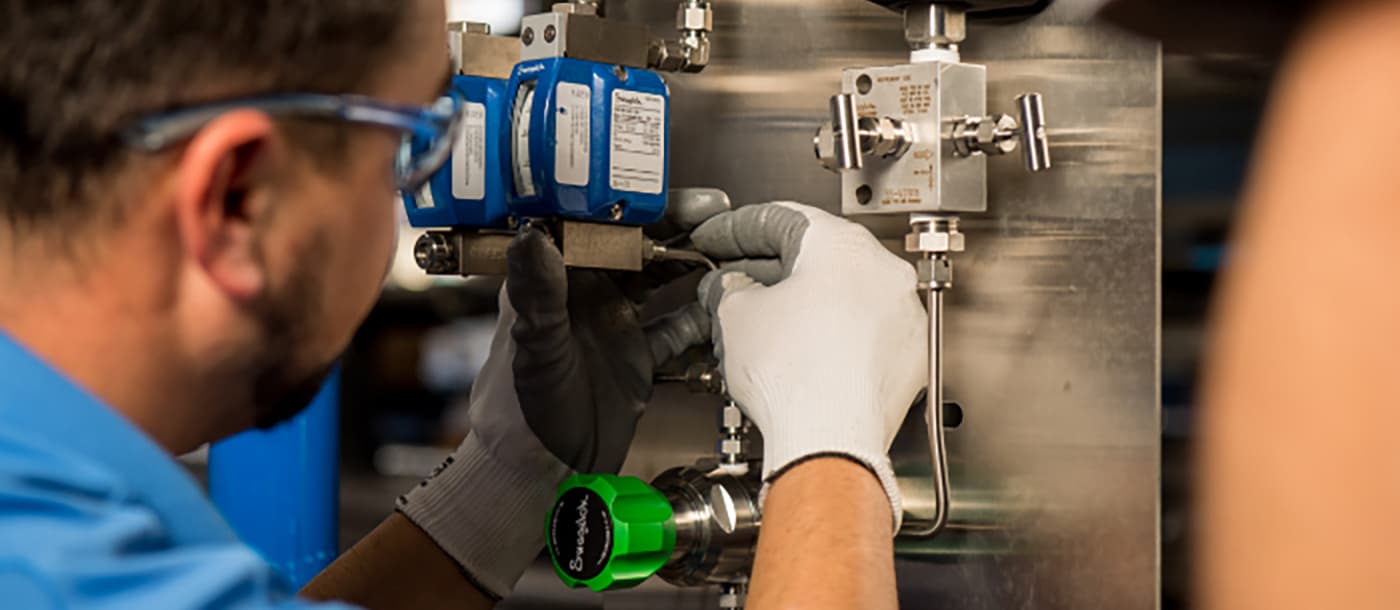 Custom Fabrication for All Industries
Learn how Swagelok-trained specialists can save you time and improve your fluid system performance by designing and assembling systems for you.
Find the Support You Need
Swagelok Resources Curated for You