text.skipToContent
text.skipToNavigation

Swagelok® Assembly-by-Torque Fittings (AbT)
Providing reliable and repeatable assembly, Swagelok assembly-by-torque (AbT) fittings are designed to meet the requirements of alternative fuel transportation applications. Its design helps installers make consistent, leak-tight tube connections that resist vibration.
Request More Information
The Swagelok AbT tube fitting features an advanced-geometry, hinging-colleting back ferrule tube fitting design. The patented fitting allows for assembly by torque, which provides a consistent leak-tight performance.
AbT fitting assembly can be accomplished quickly and easily, and the fittings provide excellent gas-tight sealing, tube-gripping action, and vibration fatigue resistance even after repeated reassembly. These fittings meet the requirements of EC-79, ECE R110, ISO 15500 and NGV 3.1, and are used in alternative fuel vehicles and infrastructure, including hydrogen, compressed natural gas (CNG), and liquid natural gas (LNG) applications.
AbT fittings utilize a unique, patented stop feature, known as a dynamic zone, which is also integrated into highly reliable Swagelok tube fittings. AbT fittings feature a double-notch nut design that visually differentiates them from standard Swagelok fittings. In all sizes, the dynamic zone design controls axial displacement of the nut during assembly and disassembly.
After a preswaged tubing assembly is inserted into a fitting body, the AbT nut is tightened to the appropriate torque value. The dynamic zone on the nut provides resistance as the connection reaches the predetermined pull-up position and torque range. The dynamic zone contacting the body shoulder provides the installer a visual inspection of proper pull-up.
Preswaging of the tubing prior to assembly enables a lower tact time on high-volume vehicle product lines.
Assembly-by-Torque Fittings (AbT) Catalogs
Locate detailed product information, including materials of construction, pressure and temperature ratings, options, and accessories.
Assembly-by-Torque, AbT, Tube Fitting
Features: Assembly by torque—150 ±13 in.· lb (17 ±1.5 N·m); Repeated reassembly by torque—seal performance is maintained through repeated reassemblies of the tube fitting at the same torque value; Visual confirmation on initial assembly—AbT nut covers the dynamic wedge when complete pull-up is achieved; Easy to install—torque wrench required; Sizes: ¼ in. and 6 mm for use with 0.035 in. and 1 mm wall tube respectively; Fitting body configurations—unions, elbows, tees, crosses, and male SAE; Meets the requirements of ECE R110 and ECE R67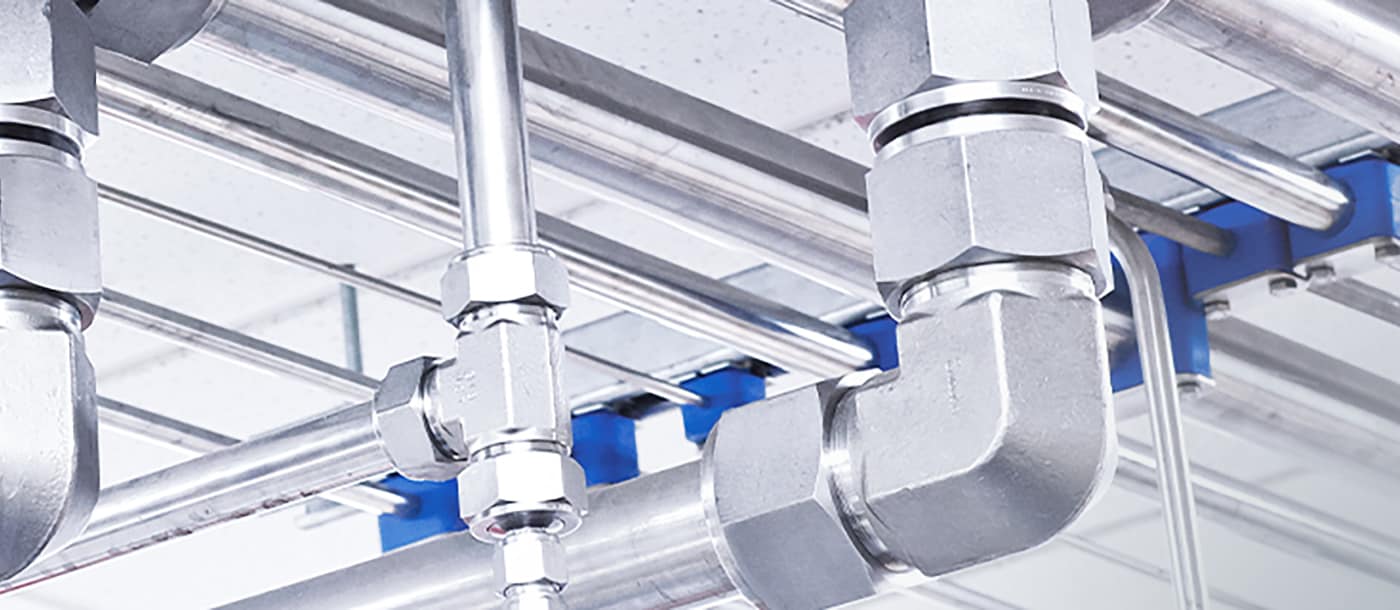 The Swagelok® Tube Fitting Advantage
Swagelok tube fittings are designed to meet your highest expectations for safety and dependability, featuring proven design, precise manufacturing, and superior raw materials.
Discover the Advantage
Swagelok Resources Curated for You